Homemade country cooking is the hallmark of Whispering Orchards Cafe. Enjoy the care and hospitality of our third generation farm family. Take home fresh baked pies, honey, jam, and pure Maple syrup. Shop for country crafts and see the peacocks that wander our yard.
Our cafe menu features homemade bread and jams. Bacon, ham, and sausage are sourced from local markets. Sausage links are filled with pork and our own honey-sweetened apple sauce. Bacon and ham are hardwood smoked.
Come for one of the HEARTY FARMER breakfasts we call THE GRAIN SHOCKER. You'll see a plate loaded with Raspberry French Toast, Apple French Toast, Blueberry French Toast, and Apple Pocket French Toast along with bacon, ham, or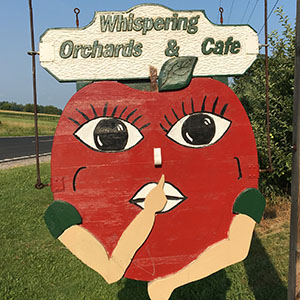 sausage, and hash browns, American fries, or herbed potato. Breakfast is important for a day of hard work on the farm.
Apple Harvest starts in September. When Chuck's grandparents, Orrin and Laura Berge planted the first apple trees over 100 years ago, little did they know their farm would grow to become the Whispering Orchards of today with many varieties like our Honey Crisp. We started selling apples out of our garage but our dreams were bigger. We planted more trees, opened the Cafe, and added a cider press.
Come meet your friends at Whispering Orchards!
Chuck and Sue Holzwart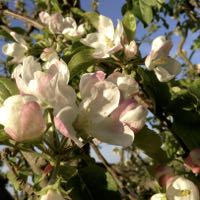 W1650 CTY RD MM, Cleveland, WI
920.693.8584
Cafe Hours
Thurs, Fri, Sat
6 am to 1 pm
Sunday
6 am to Noon
Apple Store Hours
Open During Cafe Hours