Fresh from the Chicken Coop Eggs
The incredible eggs are gathered fresh daily and served with homemade toast and Whispering Orchards honey sweetened jam.  The bacon and ham are hardwood smoked at local meat markets, the sausage links are filled with pork and our own honey sweetened apple sauce with no preservatives.
We offer a variety of Omelettes from cheese, meat, mushroom, pepper, spanish and veggie. Pancakes or French Toast top off your breakfast.  Hearty cereals from our Fitness blend made of natural high fiber blend of oats, rolled wheat and bran.  Or try our Apple Cider Oatmeal with your choice of oatmeal cooked with apple cider and topped with apples and nuts.
We have special menu items for the kids and a variety of hearty, hot and cold sandwiches for you. Try a side order of American Fries, deep fried mushrooms, or soup. We serve Apple Cider along with a variety of beverages.
Whispering Orchards meals are made from scratch with fresh and wholesome ingredients, it may take a little longer to prepare so we thank you for your patience and patronage.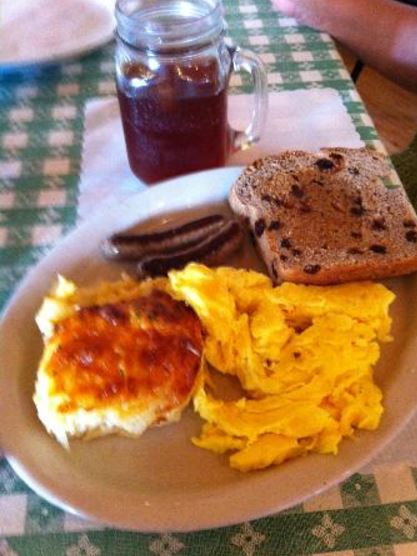 ---
Whispering Orchards Cafe Menu
---
ORCHARD FAVORITES
The Planter
Raspberry bread french toast, 1 egg, choice of meat, and toast
The Pruner
Small pancake, 2 eggs, choice of meat, and toast
The Picker
Apple pocket french toast, 2 eggs, choice of meat, and toast
Cinnamon Roll Pancake
2 eggs, choice of meat, and toast
THE HEARTY FARMER
The Binder
3 eggs, 2 bacon, 2 sausage, choice of potato, and toast
The Grain Shocker
1/2 order of each of the following french toast: raspberry bread french toast, apple bread french toast,
blueberry french toast delite, apple pocket french toast, french toast, choice of meat, and choice of potato
The Spike Pitcher
Apple pancake, 2 eggs, 2 bacon, 2 sausage, and toast
The Thrasher
Omelet supreme, choice of plain french toast or pancake, choice of meat, and toast
The Big Pig
2 pancakes, 2 eggs, 2 bacon, 2 sausage, ham, and toast
EGGS
with Bacon, Ham, or Sausage
Cheese Omelet
Made with Wisconsin Cheddar cheese
Bacon, Ham, or Sausage Omelet
Add Wisconsin Cheddar cheese
Mushroom Lover Omelet
Loaded with fresh mushrooms, Ham, and Wisconsin Cheddar cheese
Omelet Supreme
Onion, green pepper, ham, tomato, mushroom, and Wisconsin Cheddar cheese
Pepper Patch Omelet
Bell and Jalapeno peppers, onion, mushroom, Wisconsin Cheddar cheese, topped with salsa
Spanish Omelet
Bell and Jalapeno peppers, onion, mushroom, Taco Meat, Wisconsin Cheddar cheese, salsa and sour cream
Veggie Omelet
Onion, green pepper, tomato, mushroom, and Wisconsin Cheddar cheese
BY THE STACK
Buttermilk Pancakes
Served with pure Maple syrup
Apple Pancakes
Nutty pancakes served with our chunky apple topping
FROM THE COOP TO THE FIELDS
French Toast
Homemade bread dipped in farm fresh eggs, grilled and served with pure Maple syrup
Apple Bread French Toast
Our own apple bread dipped in fresh eggs, grilled and sprinkled with powdered sugar
Pocket French Toast
Stuffed with apple filling and sprinkled with powdered sugar
French Toast Delite
Topped with cinnamon, cream, fruit, and pecans
FROM THE MILL
Hot cereals or Cider Oatmeal served with fruit and toasted homemade bread
Breakfast Sandwich
Egg, ham, Wisconsin Cheddar cheese on grilled honey whole wheat served with fresh fruit
POTATOES
Hash Browns / American Fries / Herbed Potato
HOT SANDWICHES
Grilled Turkey & Cheese
Oven roasted turkey breast topped with Wisconsin Pepper Jack cheese on grilled honey whole wheat bread
Grilled Ham & Cheese
Naturally smoked ham topped with Wisconsin Cheddar cheese on grilled honey whole wheat bread
Grilled Cheese Supreme
Honey whole wheat bread layered with Cheddar & Mozzarella cheese, cream cheese and mayo
Grilled Ham & Cheese with Berry Jam
Smoked ham and cheese with our own Berry jam grilled on honey whole wheat raisin bread
COLD SANDWICHES
BLT
Bacon, lettuce, tomato, and mayo served on your choice of bread
Veggie
Layered fresh veggies served on your choice of homemade bread with optional mayo and cheese
Turkey Breast & Ham
Turkey breast, ham, lettuce, tomato, onion, and mayo served on your choice of homemade bread
SIDES
Side Salad / Deep Fried Mushrooms / French Fries / Fruit Cup / Soup
BEVERAGES
Coffee / Tea / Hot Chocolate / Hot Apple Cider / Soft Drinks / Iced Tea / Juice / Lemonade / Apple Cider
FOR THE KIDS
Orchard Mouse Pancakes / Peanut Butter & Jelly / Chicken Strips / Grilled Cheese / French Fries
DESSERTS
Homemade Pie / Pie a la mode
Copyright 2018 | Whispering Orchards & Cafe